This recipe is for a vegan lasagna with plant based meat. I usually double this recipe and make two and freeze one.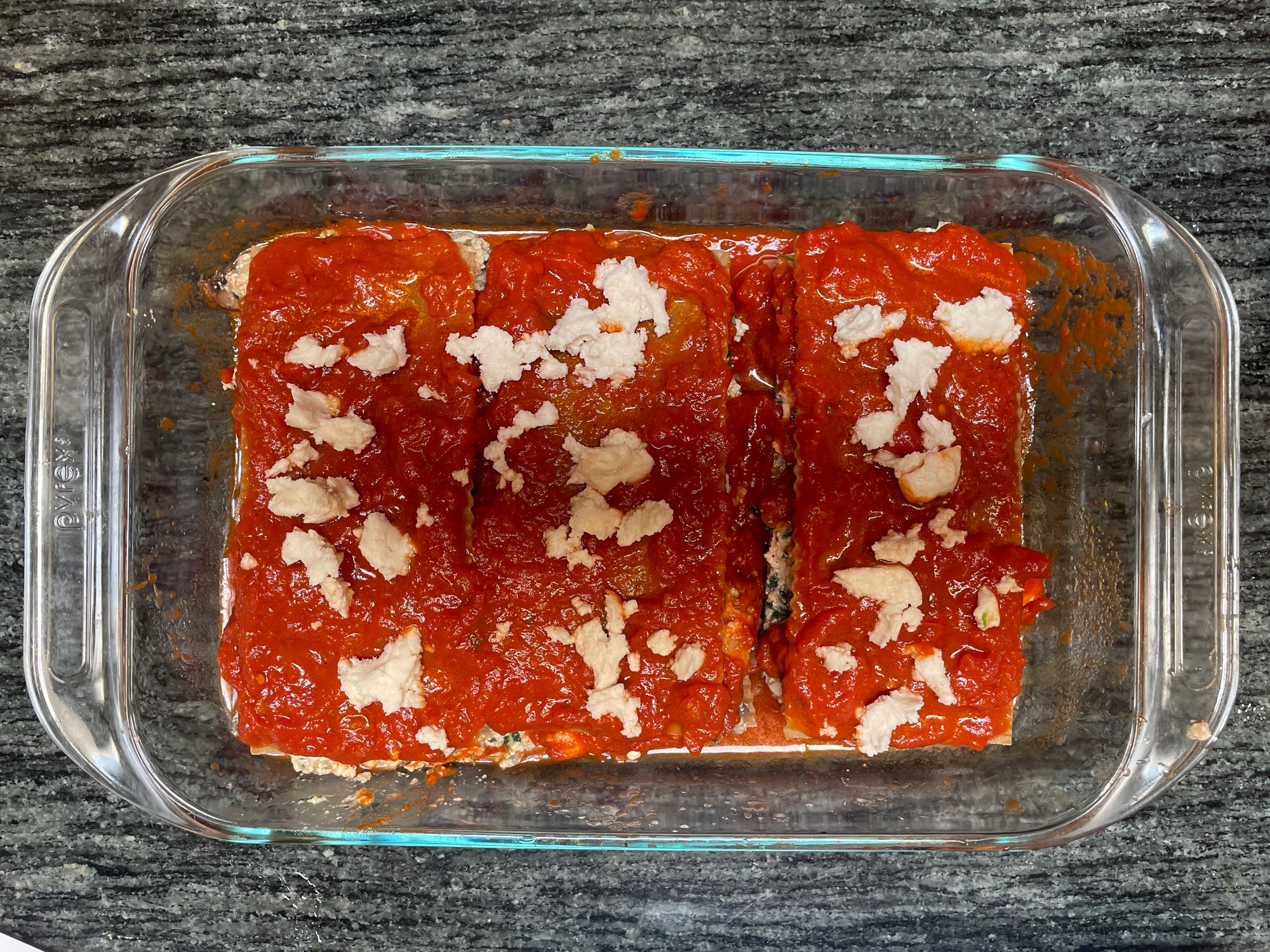 Ingredients
14 oz firm tofu, drained
¾ cup oat milk (or soy milk)
¼ cup nutritional yeast
½ tbsp red miso paste
½ tsp garlic powder
½ tsp kosher salt
1 tsp dried Italian spices (basil & oregano)
4 ounces Beyond / Impossible Meat
8 oz of Miyoko's VeganMozz
1 lb crimini mushrooms
1 yellow onion
8 oz spinach
12 oven ready, no-boil lasagna noodles
24 oz jar of Rao's Arrabbiata pasta sauce
Vegan parmesan, optional
Cooking Directions
Preheat oven to 375° F
Bring 6 cups of boiling water to a boil.
Create an ice bath in a medium bowl.
Wash and slice the mushrooms. Small dice the onion.
In a medium sauté pan on med-low heat cook the onions in a bit of olive oil until transparent then add the mushrooms and cook down until texture is soft and mushrooms have reduced significantly in quantity. Salt and Pepper to taste.
Add the spinach to the boiling water and cook for 1 minute, then strain in a colander and immediately transfer the spinach to the ice bath. Remove spinach from the ice bath after a few minutes and squeeze as much water out and pat dry. Then chop the spinach.
In a medium mixing bowl, break the tofu up into small pieces by squeezing it with your hand until well broken up. Next, add the oat milk (or soy milk), nutritional yeast, red miso paste, garlic powder, kosher salt, Italian spices, plant based meat, spinach, mushrooms and onion. Finally, mix in 2/3 of the Miyoko's VeganMozz by tearing it into tiny pieces (setting aside the remaining 1/3 to top the lasagna.) Evenly combine the ingredients until the tofu resembles a ricotta appearance.
Spread some tomato sauce in the bottom of a 9 x 13 inch baking pan. Add some water to the sauce and swirl it around until there's an even coat. Arrange three of the noodles on top of the sauce ensuring they don't overlap.
Evenly spread ⅓ of the tofu / cheese mixture over the noodles and cover with ⅓ of the pasta sauce. Repeat this 3 times so that there are 3 noodles per level.
Continue with a final layer of noodles until you've used up your cheese mixture. Finish with a layer of noodles simply covered with tomato sauce. Top with the remaining 1/3 Miyoko's VeganMozz and sprinkle with Italian seasoning.
Spray a sheet of aluminum foil with a nonstick cooking spray and cover lasagna. Bake for 30 minutes, then uncover and bake an additional 10-15 minutes. Remove from oven. Serve hot and topped with vegan parmesan if you like.
Tip: if you cook from frozen bake @ 375 for 90 min total (1h 15 minutes covered, 15 minutes uncovered.)